1 thru 10 of 2637 Stories
Police Chief Jeri Williams promised change in her department after being booed by some of hundreds of people gathered Tuesday night to discuss a videotaped police encounter that has caused a national outcry.
The photo shows a decorated Navy SEAL holding up the head of a dead Islamic State fighter by the hair while clenching a knife in his other hand.
A man fatally shot in a Southern California Costco store was mentally ill and off his medication when he pushed or slapped an off-duty police officer who then opened fire, the lawyer for the man's family.
When President Donald Trump's internal polling suggested he was trailing Democrats in crucial states, an infuriated Trump and his aides first disputed the poll's existence, then tried to dismiss its importance before finally firing some of the pollsters.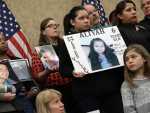 The father of a victim of the Sandy Hook Elementary School massacre has won a defamation lawsuit against the authors of a book that claimed the shooting never happened.
President Donald Trump is threatening to remove millions of people living in the country illegally on the eve of formally announcing his re-election bid.
As he mounts his bid for reelection, Trump is offering himself as the outsider once again — but it's a much more awkward pitch to make from inside the Oval Office.
The off-duty officer who shot and killed a man inside a Southern California Costco last week was attacked without warning as he held his toddler son, the policeman's attorney said Monday.
Hundreds of Pakistani girls have been married off to Chinese men in return for cash payments to their families, most of them Christians, a community that is among the poorest of the poor in the country.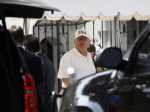 President Donald Trump has lashed out at The New York Times, saying it engaged in a "virtual act of treason" for a story that said the U.S. was ramping up its cyber-intrusions into Russia's power grid.
1 thru 10 of 2637 Stories