Rising Latin trap artist Kevin Fret was shot dead in Santurce, San Juan, Puerto Rico Thursday morning. He was 24.
Gay porn star turned singer Allen King is releasing another music video this week.
The 2019 Bonnaroo Music and Arts Festival will feature Childish Gambino, Post Malone, Cardi B, the Lumineers and multiple sets from Phish.
The trappings of success continue to arrive for K-pop sensation BTS, the latest a contract with the toy company Mattel which secured rights to produce dolls of the boy band.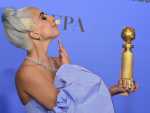 "A Star Is Born" walked into Sunday's Globes as a favorite with five nominations, but only ended up winning one award: Best original song for "Shallow," co-written by Lady Gaga.
Britney Spears is putting her planned Las Vegas residency on hold to focus on her father's recovery from a life-threatening illness.
The organizers of the 2019 Coachella Valley Music and Arts Festival have announced the top acts scheduled to appear at the multiday event in April.
Daryl Dragon, the cap-wearing "Captain" of Captain & Tennille who teamed with then-wife Toni Tennille on such easy listening hits as "Love Will Keep Us Together" and "Muskrat Love," died Wednesday. He was 76.
If Chaka Khan were a flower, she'd be a perennial.
Singer Adam Lambert is making headlines this week for his emotional cover of Cher's "Believe" that even made the music icon cry.