PABallet's Ian Hussey is at the height of his career, so he surprised many with the announcement of his retirement. He explains why in this interview on the eve of his final appearances with the company.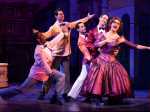 Santino Fontana stars in the musical version of "Tootsie," based on the film about an actor who disguises himself as a woman to land a leading role.
Alvin Ailey American Dance Theater celebrates its 60th anniversary with fresh flair at Boston's Boch Center Wang Theatre this past weekend.
Downtown performance artist Taylor Mac (whose preferred pronoun is "Judy") has christened Broadway's Booth Theatre with a unique brand of quirk and activism, the likes of which have never been seen in such a commercial space.
Some records on Broadway are bound to fall one day and others are surely safe for all time. Sarah Stiles has one that's hard to top.
Royal Caribbean International's cruise line directs 134 shows in 50 theaters on 26 ships around the world, including seven Broadway-originating shows, eight aqua shows, 18 ice shows and dozens of original musicals.
James Graham's new play, "Ink," follows a young Rupert Murdoch as he purchases a struggling newspaper and sets out to make it a must-read smash that will destroy and horrify the competition.
Out Alvin Ailey American Dance Theater dancer Daniel Harder plays the lead in the ballet "Lazarus" spoke by phone about the company's tour and Ailey's enduring legacy still inspiring a new generation of dance artists.
"Hadestown," singer-songwriter Anaïs Mitchell's Broadway debut, earned a leading 14 Tony Award nominations Tuesday, followed by the jukebox musical "Ain't Too Proud," built around songs by the Temptations, which received a dozen nominations.
Anaïs Mitchell's new musical, "Hadestown," intertwines to Greek myths into a timeless and breathtaking cautionary tale about the power of love.