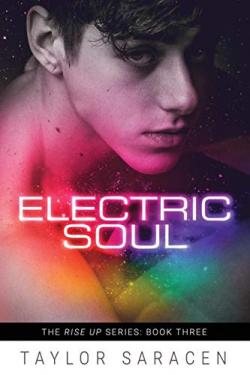 Joey Mills doesn't know who he wants to be. He isn't even sure who he doesn't. All he knows is that he thinks about it less than other people who try to mold themselves into certain boxes they are convinced they need to fit into. He always fit in just by being himself. Or maybe that is what he trains his brain to believe, that he is who he wants to be, and that people want to be around whoever he is. Thinking about it too much is a dangerous exercise in self-doubt, one he doesn't have the patience to participate in. Why doesn't he tell people he is gay? Why is it off-limits if he truly doesn't worry about what people think of him? Maybe it's time for a change.

Rise Up is a series of new adult novels that illuminates pivotal moments in the lives of LGBTQ youth. Each novel features a fresh protagonist and his experience navigating the ups and downs of adulthood. While the characters change and the stories vary, common themes--including the struggle for independence, identifying one's passions, searching for acceptance and for love--are interwoven through the pages of the novels. These stories will open your eyes to worlds of possibilities, both conventional and off-beat, as these men take you on their journeys to self-discovery.

Enter to win!

Thanks for visiting EDGE!
Enter this contest
If you already have an account with EDGE, all you need to do is log in; we'll pull your address information from your account and simply ask you to verify it. If you do not yet have an account with us, register now! It's easy and free, and you'll never have to type in your personal information again. If you prefer to enter this information manually, you can use the manual entry link below.
Register
Manual Entry
Click here for contest rules.
* Please be aware that creating multiple accounts for the same person will disqualify you.