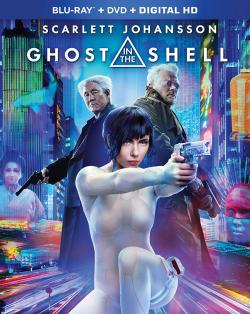 "Totally riveting" (Bill Zwecker, FOX-TV) and filled with "heart pounding excitement" (Pete Hammond, Deadline), the thrilling and eye-popping GHOST IN THE SHELL arrives on 4K Ultra HD Combo Pack, Blu-ray 3D Combo Pack, Blu-ray Combo Pack, DVD and On Demand July 25, 2017 from Paramount Home Media Distribution. The future comes early on Digital HD July 7.

Set in a world where people are enhanced with technology, GHOST IN THE SHELL follows Major (Scarlett Johansson), who believes she was rescued from near death. The first of her kind, Major is a human mind inside an artificial body designed to fight the war against cyber-crime. While investigating a dangerous criminal, Major makes a shocking discovery - the corporation that created her lied about her past life in order to control her. Unsure what to believe, Major will stop at nothing to unravel the mystery of her true identity and exact revenge against the corporation she was built to serve. A "visually stunning"
(Leah Greenblatt, Entertainment Weekly) "classic in the making" (Dan Casey, Nerdist), GHOST IN THE SHELL also stars Takeshi Kitano, Michael Carmen Pitt, Pilou Asbæk, Chin Han, and Juliette Binoche.

The GHOST IN THE SHELL 4K Ultra HD, Blu-ray 3D and Blu-ray Combo Packs are loaded with over 50 minutes of fascinating special features. Scarlett Johansson, director Rupert Sanders and other cast and crew take you behind-the-scenes to talk stunts, special effects and intricate fight sequences. Plus, take an in-depth look at the real-life science behind robotics; discover how cyber-enhancements give each character specialized super-soldier abilities; and learn about the original anime as well as the inspirations behind the visually stunning view of the future. The film also boasts a Dolby Atmos® soundtrack* remixed specifically for the home theater environment to place and move audio anywhere in the room, including overhead.

Special Features:

o Hard-Wired Humanity: Making Ghost in the Shell
o Section 9: Cyber Defenders
o Man & Machine: The Ghost Philosophy

https://www.GhostInTheShellMovie.com

Enter to win!

Thanks for visiting EDGE!
Enter this contest
If you already have an account with EDGE, all you need to do is log in; we'll pull your address information from your account and simply ask you to verify it. If you do not yet have an account with us, register now! It's easy and free, and you'll never have to type in your personal information again. If you prefer to enter this information manually, you can use the manual entry link below.
Register
Manual Entry
Click here for contest rules.
* Please be aware that creating multiple accounts for the same person will disqualify you.