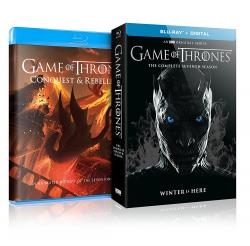 GAME OF THRONES®: THE COMPLETE SEVENTH SEASON

Available on Blu-ray and DVD December 12, 2017 & for Digital Download September 25th

The record-breaking phenomenon is back with a season that proved to be well worth the wait! Action-packed from start to finish with the series' most epic battles yet, the HBO® drama series Game of Thrones: The Complete Seventh Season will be available for Digital Download September 25th and on Blu-Ray™ and DVD December 12th. The latest season of Game of Thrones featured the most-watched premiere and finale episodes in HBO history, and the series remains the most-awarded drama series in Emmy® history, with 109 nominations to date and winning the 2015 and 2016 trophy for Best Drama Series. Available December 12th, The Blu-ray™ and DVD sets are packed with exclusive new bonus content including audio commentaries on every episode, two new behind-the-scenes featurettes, and, for a limited time only, a bonus disc containing Conquest & Rebellion: An Animated History of the Seven Kingdoms, a 45-minute, never-before-seen extension of the Clio Award-winning History & Lorefeatures included on previous individual Blu-ray™ season releases. Narrated by some of the series' biggest stars including Nikolaj Coster-Waldau (Jaime Lannister) and Sophie Turner (Sansa Stark), the companion piece to season 7 reveals the fascinating story of how the world of Westeros as we know it came to be- including what happened the last time a Targaryen invaded the realm! Available September 25th, the Digital Download release for Game of Thrones: The Complete Seventh Season includes an exclusive new "Creating the North and Beyond" featurette that takes fans behind the scenes of Jon Snow's epic trek north of The Wall and his latest battle with the Night King's army.

In Season 7, Daenerys Targaryen has finally set sail for Westeros with her armies, dragons and new Hand of the Queen, Tyrion Lannister. Jon Snow has been named King in the North after defeating Ramsay Bolton in the Battle of the Bastards and returning Winterfell to House Stark. In King's Landing, Cersei Lannister has seized the Iron Throne by incinerating the High Sparrow, his followers and her rivals in the Sept of Baelor. But as old alliances fracture and new ones emerge, an army of dead men marches on the Wall, threatening to end the game of thrones forever.

Special Features:

· Conquest & Rebellion: An Animated History of the Seven Kingdoms- From the Game of Thrones realm comes the never-before-seen story of the tumultuous events that shaped the world of Westeros for thousands of years before the series start. Cast members Pilou Asbæk (Euron Greyjoy), Nikolaj Coster-Waldau (Jaime Lannister), Aidan Gillen (Littlefinger), Conleth Hill (Varys), Harry Lloyd (Viserys Targaryen) and Sophie Turner (Sansa Stark) team up to narrate the animated telling of Aegon Targaryen's attempts to conquer the Seven Kingdoms, written by show writer Dave Hill.

· From Imagination to Reality: Inside the Art Department- Extensive two-part featurette detailing the astonishing work of Production Designer Deborah Riley and her Art Department, dissecting the process behind the creation of this season's incredible new sets, including Dragonstone, Casterly Rock, Highgarden, the Dragonpit, and more.

· Fire & Steel: Creating the Invasion of Westeros- Revisit this season's most pivotal moments with this behind-the-scenes featurette, including interviews with key cast and crew breaking down how fans' favorite moments were created.

· Audio Commentaries- Commentaries on every episode with cast and crew including David Benioff, D.B. Weiss, Jacob Anderson, Gwendoline Christie, Liam Cunningham, Kit Harington, Lena Headey, and more.

· Histories and Lore- 7 new animated pieces that give the history and background of notable season 7 locations and storylines including The Dragonpit, Highgarden, Prophecies of the Known World, the Rains of Castamere and more all narrated by cast members including Nikolaj Coster-Waldau, Aidan Gillen, Iain Glen and more.

· In-Episode Guides- In-feature resource that provides background information about on-screen characters and locations.

Based on the popular book series "A Song of Ice and Fire," by George R.R. Martin, the seventh season of this hit Emmy®-winning fantasy features returning series regulars Emilia Clarke (Daenerys Targaryen), Nikolaj Coster-Waldau (Jaime Lannister), Emmy® and Golden Globe® winner Peter Dinklage (Tyrion Lannister), Aidan Gillen (Petyr "Littlefinger" Baelish), Kit Harington (Jon Snow), Lena Headey (Cersei Lannister), Diana Rigg (Lady Olenna Tyrell), Sophie Turner (Sansa Stark) and Maisie Williams (Arya Stark).

Enter to win!

Thanks for visiting EDGE!
Enter this contest
If you already have an account with EDGE, all you need to do is log in; we'll pull your address information from your account and simply ask you to verify it. If you do not yet have an account with us, register now! It's easy and free, and you'll never have to type in your personal information again. If you prefer to enter this information manually, you can use the manual entry link below.
Register
Manual Entry
Click here for contest rules.
* Please be aware that creating multiple accounts for the same person will disqualify you.