Top Story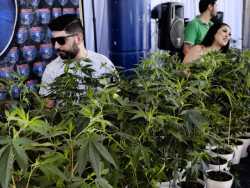 California legislators considered a plan Monday intended to encourage more banks to do business with marijuana companies that have been frozen out of thousands of financial institu...
1 thru 10 of 12444 Stories
In recent months, fast-food chain Chick-fil-A has been trying to fend off the perception of being anti-LGBTQ. But for Montana's AG - and gubernatorial candidate - Tim Fox, that's all the more reason to invite the company in.
A controversial proposal to increase housing near transportation and job hubs faces a key test Wednesday as California lawmakers search for solutions to the state's housing affordability crisis.
If your parents aren't on track for retirement, accepting a monetary gift from them can create more financial problems than it solves.
Nicaragua's economy is in "free fall" a year after anti-government protests were violently repressed by the government and its supporters, the country's leading business association said Wednesday.
Who's minding the store? In the not-too-distant future it could be cameras and sensors that can tell almost instantly when bruised bananas need to be swapped for fresh ones and more cash registers need to open before lines get too long.
A Coast Guard lieutenant accused of stockpiling guns and compiling a hit list of prominent Democrats and network TV journalists looked at other targets: Two Supreme Court justices and two executives of social media companies.
Puerto Rico's governor pledged on Wednesday to lift the U.S. territory from a deep recession by creating more jobs, reversing a migration exodus and implementing a range of incentives as the island struggles to recover from Hurricane Maria.
Candor surrounding race is becoming what Democratic strategist Joel Payne called a "woke litmus test" for any white person who wants to win the Democratic presidential nomination.
California lawmakers advanced tougher rules for vaccinations late Wednesday after hearing hours of testimony from hundreds of opponents while the nation grapples with the highest number of measles cases in decades.
As House Democrats ramp up their post-Mueller investigations into President Donald Trump, his strategy for responding is simple: Resist on every legal front.
1 thru 10 of 12444 Stories