1 thru 10 of 6849 Stories
Twitter isn't happy with Hollywood heartthrob Noah Centineo.
At the 2018 Food & Wine Classic in Aspen, Chef Anne Burrell explains the art of braising as she prepares her Braised Chicken Thighs with mushrooms and an almond puree.
A TV journalist known for confronting would-be child predators has been snared himself in a police investigation alleging he wrote bad checks for $13,000 worth of marketing materials.
Fitness and style YouTuber Brett Maverick delivers a workout so you can be superhero strong in 2019.
Golden Globe nominee and Tony Award winner Billy Porter kicks off what promises to be New York City's most epic Pride season ever.
Rihanna is suing her father over his use of their last name for a business.
"RuPaul's Drag Race" judge Ross Mathews is getting "more serious" with his new boyfriend, months after splitting from his longtime partner, according to a report from Us Weekly.
Gus Kenworthy is among the many LGBTQ people outraged and calling out controversial YouTube star Logan Paul for saying on a recent podcast that one of his New Year's resolutions is that he's "going gay" in March.
Kim Kardashian and Kanye West are expecting their fourth child.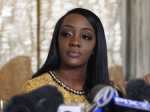 R. Kelly wrote a letter threatening to reveal embarrassing details of a woman's sexual history if she didn't drop a lawsuit accusing him of sexual abuse, the woman and her lawyer said Monday.
1 thru 10 of 6849 Stories