South Florida Gay News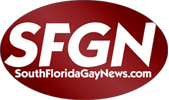 The South Florida Gay News.com celebrates the lives of South Floridians with daily news briefs and storied features, breaking news and lifestyle profiles. Check out their website at southfloridagaynews.com.
The Mountain of Fire and Miracles Ministry in Liverpool, England, claims to offer a program designed to cure men and women of their homosexuality through fasting, the Liverpool Echo reports.
The folks at A Way Home America, Rapid Results Institute, and HomeBase have come up with a solution to end teen homelessness, dubbed the 100 Day Challenge.
The Reykjavic Pride board of directors and the city mayor painted the rainbow out front of the building on Tuesday.
A contract between Broward County Public Schools and Celebration Church Fort Lauderdale has some members of the LGBT community accusing school officials of sheltering bigotry.
The Trump administration diverted fund away from organizations focused on countering white supremacists and other far-right hate groups.
Oakland Park is poised to be the next South Florida city to ban the practice of conversion therapy on minors, with the City Commission agreeing to take up the discussion on whether or not to pursue the issue as an ordinance on September 6.
Minnesota parents of a 7-year-old transgender child settled charges filed against Nova Classical Academy Charter School in St. Paul after the school failed to implement policies that would have protected their child against bullying.
Violence, racism, xenophobia and homophobia took over Charlottesville, Virginia last weekend.
Despite a wave of criticism, Trump's capricious anti-trans military policy seems to be making its rounds and becoming more than just a series of tweets.
Bob the Drag Queen won season 8 of "RuPaul's Drag Race" and has kept the momentum going ever since. Now she stars as Kickass Drag Queen in her own comic strip exclusively in an Instagram slideshow.