Rainbow Family Storytime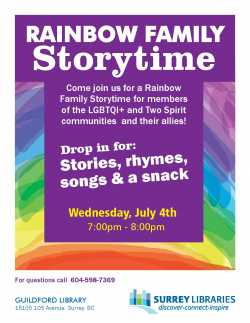 When:
Wednesday July 4 at 7:00PM

Where:
15105 105 Avenue, Surrey, BC

Visit Website
About:

Rainbow Family Storytime is for families with individuals that identify as LGBTQI+ and/or Two-Spirit, as well as their allies! It is geared toward children of all ages. The goal is to create a safe, inclusive space that is respectful of everyone's identity and journey.

There will be inclusive stories, songs, rhymes, a healthy snack, and a craft. There will also be face painting!

For an inclusive and family-friendly time, drop in to Guildford Library's Rainbow Family Storytime!