Gay Buffalo: The Latest
Lilly Wachowski — one half of the Wachowski siblings, both of whom are trans — appeared on a "Netflix Film Club" clip to discuss the "trans narrative" of the "Matrix" movies.
In the early days of the coronavirus crisis, President Donald Trump was flanked in the White House briefing room by a team of public health experts in a seeming portrait of unity to confront the disease that was ravaging the globe.
Joe Biden's Democratic presidential campaign is reserving $280 million in digital and television ads through the fall, nearly twice the amount President Donald Trump's team has reserved.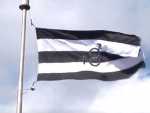 The so-called "Straight Pride" that roiled Modesto, California last summer was an unqualified flop. But that hasn't stopped the group behind the event from planning a followup for this year.
A desperately sick child. A mother who refused to take "no" for an answer. It was this call to action that motivated the launch of Harmony CBD, an organic American hemp company.
Tony Okungbowa, who served as the DJ on "The Ellen DeGeneres Show" for a number of years, took to Instagram Tuesday to responded to the toxic workplace allegations made against the talkshow in the past week.
Against the background of rising HIV incidence and disappointing behavior change interventions in Malawi, a group of researchers designed a study to identify where the gap could be.
On America's southern doorstep, the Rio Grande Valley, the U.S. failure to contain the pandemic has been laid bare. The results have been deadly.
A brand new life is ahead for the vintage sitcom "Who's the Boss?" and its devoted fans.
"Mulan" is no longer headed for a major theatrical release. The Walt Disney Co. said Tuesday that it will debut its live-action blockbuster on its subscription streaming service, Disney+, on Sept. 4.
Fox News Channel viewers are usually a loyal bunch, but thousands looked for the "off" switch during last week's telecast of civil rights icon John Lewis' funeral.

"Julia Scotti: Funny That Way" is a triumph not only for the comedian herself, but for audiences who need to hear from trans people about their own lived experiences... and who, not incidentally, need a good laugh.
President Donald Trump's demand that the U.S. government get a cut from a potential Microsoft purchase of TikTok is the latest unprecedented scenario in an unprecedented situation.

Earlier this year, Grindr introduced a new feature that allows users to talk about all kinds of topics. But dick pics prevail in the "Circle" channels.
Numerous insurers across the country have announced plans to hike rates next year, though some have proposed cuts.
A former Google engineer has been sentenced to 18 months in prison after pleading guilty to stealing trade secrets before joining Uber's effort to build robotic vehicles for its ride-hailing service.
Check out some of our favorite LGBTQ chefs and restaurateurs, and if you live nearby, consider ordering take-out or socially distant dining.
A program that sounded like a game changer when it was announced last month at the White House is now prompting concerns that it could turn into another unfulfilled promise for nursing homes
A cruise ship carrying more than 200 people docked in a Norwegian harbor Wednesday and ordered to keep everyone on board after a passenger from a previous trip tested positive for the coronavirus upon returning home to Denmark.
Fire Island remains one of the major summer destinations as the place to relax and party during summer. But this year public events are out, officially at least. Here's a look back at some of them - from drag flotillas to beach parties.