Watch: In New Series, 'Queer Eye' Star Antoni Porowski Helps Quarantining Fans Make Fun Meals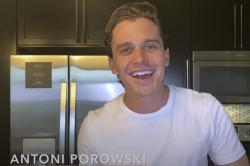 Netflix is launching a new YouTube series called "Show Me What You're Working With" starring "Queer Eye" food and wine expert Antoni Porowski. In the show, Porowski helps fans who are quarantining whip up delicious and fun meals with the ingredients they already have in their kitchen.

"I'll cook up a recipe to make your quarantine life just a little bit tastier," the reality star says in the clip.

Netflix shared the first 12-minute episode to Youtube Tuesday in which a couple from Syracuse, New York video chat with Porowski and explain they are "looking for something more interesting to do with eggs and sausage."

Porowski guides Brenda, a pharmacist, and James, an emergency room physician, on how to make shakshuka — a traditional Middle Eastern meal with eggs and tomato sauce.

Elsewhere in the clip, Porowski's boyfriend Kevin Harrington pops up to help cook the dish. They explain that Harrington came to Porowski's home for his birthday but decided to stay with him instead of traveling back to New York City where the COVID-19 pandemic was hitting the city hard.

At the end of the video, Porowski announces that fans can show him what they're working with by sending a video to [email protected] answering a few questions: "Who are you?," "Where are you located?," "Who are you quarantining with?," and a list of ingredients in their home.

"Do you have any weird stuff that you really have no idea what to do with? Or a wild car that you've never even used before? I want to know and I want to help you," he says.

Check out the episode below and be on the lookout for more episodes of "Show Me What You're Cooking."
Comments on Facebook