A new work by the elusive street artist Banksy, honoring health workers, has been unveiled at a British hospital.
In the coronavirus lockdown, Russians can't go to their beloved and renowned museums. So they're filling the holes in their souls by recreating artworks while stuck at home and posting them on social media.
Some of the world's most significant cultural institutions are virtually opening their shuttered doors, letting all inside for a peek at art by and for the LGBTQ community.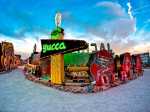 While The Neon Museum is temporarily closed due to COVID-19 safety measures, it offers several ways to #NeonMuseumFromHome and stay engaged.
These art galleries provide a feast for the senses in some more-than-slightly-unusual venues.
ARTECHOUSE immersive digital art gallery intersects art, technology, and design for one-of-a-kind experiences, including Refik Anadol's latest work, "Infinite Space."
The Louvre Museum was closed again Monday as management was meeting with staff worried about the spread of the new virus in the world's most-visited museum.
The spreading coronavirus epidemic shut down France's Louvre Museum on Sunday, with workers who guard its trove of art works fearful of being contaminated by the museum's flow of visitors from around the world.
Step out of the sun to check out South Beach's diverse art scene, featuring old masters, modern marvels, Instagram-worthy murals, and a high-tech video installation.
Thanks to modern technology and some expert detective work, a painting attributed to an unknown artist in Rembrandt's workshop has now been judged to have been a work of the Dutch master himself.