Review: 'The Forty-Year-Old Version' is an Audacious, Refreshing Comedy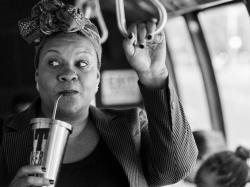 Turning 40 can feel momentous and jarring, especially in our youth-obsessed society. A semi-autobiographical film written/directed by and starring Radha Blank, "The Forty-Year-Old Version" is her audacious directorial debut, which won Sundance's U.S. Dramatic Competition Directing Award. The shrewd, bawdy, and frank comedy features an almost 40-year-old Black woman playwright struggling for recognition who starts rapping. It explores women aging, unapologetically being yourself, the elevation of some art over others, and the urgency and power of storytelling.
Early on, we see Radha's "30 under 30" playwright award. But her career has stalled. Radha also teaches a dramatic writing class for Harlem students. These are some of my favorite scenes, bursting with vivacious personalities, including acerbic Elaine and queer loyal Rosa. In one scene, Radha warns students not to expect validation so they don't "end up some washed up, 40-year-old playwright with some stupid notion to become a rapper," articulating her harsh self-perception. I'm white, but as a woman over 40, I understand the fear. Especially as a writer, there's tremendous pressure to achieve accomplishments by that age. But everyone moves at their own pace.
Radha's new play, "Harlem Ave," is about a Black couple running a grocery store. Producer J. (Reed Birney) tells her it lacks "authenticity," arrogantly thinking he knows better than a Black woman living in Harlem. He also offers Radha a job to write his Harriet Tubman (later Ida B. Wells and finally Shirley Chisholm) musical. Based on an incident in Blank's life, the film is a funny, scathing commentary on white people co-opting Black art and history and what stories Black people are allowed to tell. Throughout, Radha rewrites her play in order to appease the white producer and director, despite her request for a Black director. She channels her frustrations into rapping.
The film is in black and white. Blank said she's "revisiting the classic New York comedy," evocative of "She's Gotta Have It" and "Frances Ha." Much of Eric Branco's cinematography involves scenes with mirrors: Radha gazes into mirrors or scenes unfold through reflections. It reifies how Radha must face and accept herself.
"The Forty-Year-Old Version" is Radha Blank's audacious directorial debut.
The film is intercut with interviews Radha filmed with students and people in her neighborhood, (including a hilarious 70-year-old woman), visually evoking interviews in Cheryl Dunye's "The Watermelon Woman." Radha asks their thoughts on women turning 40. Characters talk about bodies sagging and failing as if 40 equals doom. Society spreads ageist messages. Yet, Radha is refreshingly framed as desirable by characters, especially as a plus-size woman.
Radha meets D (Oswin Benjamin), who makes beats, and they eventually have a romantic relationship. At his apartment/studio, she raps her song "Poverty Porn," described as "a social commentary about the white gaze's eroticism of Black pain." Lyrics speak of films brimming with tropes of Black people. She also has songs "This is Bullshit" and "FYOV," short for both "forty-year-old version" and "find your own voice." She's really good, which is unsurprising since Blank raps in real life under the name RadhaMUS Prime.
Hip-hop fuels the soundtrack, and there's a hip-hop show (including Radha's incredibly awkward performance), as well as women in a rap battle. Best friend and agent Archie (Peter Y. Kim), a gay Korean American man, doesn't understand Radha's desire to make hip-hop. She says she wants to speak to the 40-year-old woman's perspective and rapping makes her "feel good" about herself.
We need more films directed by and starring Black women and women over 40. Throughout, Radha wavers from rapping because of fear. It's joyous witnessing her journey as she eventually jettisons expectations, finding self-acceptance.
Comments on Facebook