1 thru 10 of 3755 Stories
There aren't many up and coming gay singer-songwriters who can say that they were given the seal of approval by queer royalty at the start of their careers. But Dylan Rice can. Styx co-founder and bassist Chuck Panozzo.
"Rain on Me," the new song by Lady Gaga and Ariana Grande, is the No. 1 song in America. It debuted on the Billboard Hot 100 chart in the coveted spot, breaking records for both Gaga and Grande.
The music industry is planning to turn off the music and hold a day to reflect and implement change in response to the death of George Floyd and the killings of other black people.
Lady Gaga has finally released her sixth studio album "Chromatica."
Less than a week after releasing a B-sides completion of her 2019 album "Dedicated," Carly Rae Jepsen said she's already made another full-length album while in quarantine.
Lady Gaga is making it rain more music.
Lady Gaga and Ariana Grande are sharing a new promo video for their new single "Rain on Me" where they act like meteorologists on local news.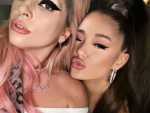 After a week of teasing and hype, Lady Gaga has finally shared her new song "Rain on Me" — her collaboration with Ariana Grande.
Not long after releasing her new single "Rain on Me," Lady Gaga is sharing its accompanying music video for the song, which features Ariana Grande.
Lana Del Rey took to Instagram early Thursday morning to announce that she plans on releasing a new album on Sept. 5 and also defended her lyrics and her artistry.
1 thru 10 of 3755 Stories