1 thru 10 of 4063 Stories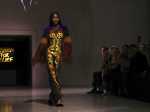 Model Naomi Campbell took center stage at London Fashion Week on Saturday night with a gala charity benefit at the impressive setting of the world famous British Museum.
High heels, skinny jeans and dragon-themed jackets have descended on London with Friday's start of Fashion Week.
Twice a year, the New York fashion world trudges to the Upper East Side and the cavernous Park Avenue Armory to see what new tricks Marc Jacobs has up his sleeve.
There were no flag outfits, but Michael Kors' show for New York Fashion Week was very much a patriotic tribute as he saluted American fashion with a collection that ran from nautical chic to classic glamour-girl gowns to whimsical polka-dot designs.
Somehow Jacobs, who has the final Fashion Week slot every time — a position of considerable pressure — tends to find a way to surprise and impress.
Runway met Broadway when The Blonds took to the stage of the splashy musical "Moulin Rouge."
"Real Housewives of New York" stars Sonja Morgan and Dorinda Medley have received flak for making comments perceived to be transphobic, aimed at trans model Yasmine Petty. Listen to the comments and read Petty's response here.
Don't look for Rihanna's new collection on social media. The curated audience heavy on young influencers had their phones locked in cases for the NY Fashion Week show that was filmed for streaming Sept. 20 exclusively on Amazon Prime. Here's a sneak peek.
Big Sean, A$ap Ferg, Halsey and Migos rocked Rihanna's Savage X Fenty crowd Tuesday from a color-saturated stage at the Barclays Center as Normani and Laverne Cox joined an army of supermodels in a showcase of her latest loungewear and lingerie.
Stacey Bendet, creative director of Alice + Olivia, created a dreamscape in color on nine monochrome backdrops as models posed Monday for a presentation at New York Fashion Week.
1 thru 10 of 4063 Stories