4 Hot Dog-Worthy Destinations to Celebrate 4th of July
Hot dog! Are you having an 'ole fashioned barbecue this Fourth of July? Even if you don't want to fire up the grill, there are plenty of spots around the country where culinary experts will do it for you. Here are five spots serving up America's best bites on a bun.

"Plain Jane Dog" from Clinton Hall Rooftop Beer Garden at Pod Brooklyn - Williamsburg, New York
The Clinton Hall Rooftop Beer Garden at Pod Brooklyn serves up a simple, yet delicious hot dog — the "Pain Jane Dog," at Williamsburg's only rooftop beer garden. An all-beef hot dog topped with onions, radish, and pickles, this juicy frank pairs perfectly with the rooftop's specialty cocktails such as Cide Frose or any of the Supercraft beers on tap. Over 100 solar panels supply power and recycle energy across the property, making Clinton Hall's Rooftop Beer Garden the greenest rooftop bar in the borough.

"The Chili Dog" from Pink's Hot Dogs, Hollywood, CA
This Hollywood landmark since 1939 has put the hot dog experience in a league of its own. Serving over 2,000 hot dogs a day via a unique 1946 open kitchen curbside stand with relaxed dining room and patio seating, Pink's Hot Dogs has become an LA staple for locals and tourists alike. Pink's serves over 35 combinations of hot dogs to satisfy a variety of tastes, with the best sellers being the Chili Dog and Chili Cheese Dog, snapping with every bite. It also serves a variety of unique hotdogs including the nine-inch 'Lord of the Rings Dog' and the 'Giant 12-inch Jalapeño.'

Pink's is located near major Hollywood studios like Paramount, Universal and Disney. Its long-standing history of attracting high-profile movie stars — many who were discovered by hanging their photos on the walls for producers and directors who dined there — is part of what makes Pink's a major draw. Today, its dining room is filled with over 200 photos of celebrities with signed endorsements of their enjoyment for the one-of-a-kind hot dogs.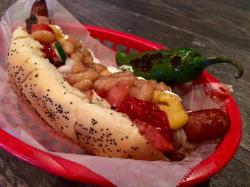 "The Mexican Hot Dog" from Revolver Taco Lounge in Dallas, Texas
Named "Best Hot Dog " by the Dallas Observer in 2018, the Mexican Hot Dog was inspired by the street hot dogs from Guadalajara, Mexico. It is served in an artisan bun with a local Bryan Luscher's sausage wrapped with smoky bacon, fresh tomatoes and onions, sour cream, "Frijoles de la olla" (tender mayocoba beans) and a grilled jalapeño on the side. Revolver Taco Lounge is a Deep Ellum favorite and also one of the stops of the famous Dallas Margarita Mile.

A prominent figure on the menu, Evening Bar's Truffle Dog takes an all-natural beef hot dog and adds taleggio cheese and shoestring potato, creating an elevated version of the classic American treat. Guests can enjoy alongside herb fries and a cocktail at the warm and comfortable hotel bar located in Detroit's newly opened Shinola Hotel, where Chef Andrew Carmellini taps local mixologists to offer a seasonal cocktail menu emphasizing artisanal distilleries, organic fruit, and vegetable extracts and a studied approach to classic recipes.

A Pool-Side Hot Dog at The Asbury
Take a trip to the recently transformed Asbury Park and experience the cultural hub of the Jersey Shore with a legendary live music scene home to Bruce Springsteen, a burgeoning restaurant destination and vibrant surf culture. And just two blocks from the beach and the buzz of the Asbury Park Boardwalk sits The Asbury, a hotel whose design is a mash-up of Victorian-era history and rock-n-roll present, featuring The Pool, a sanctuary for guests with plentiful seating and a large pool deck where guests can take a dip, soak in the sun, or grab a drink.

From May through September experience the hotel's food truck (a classic VW van with a rock and roll vibe) which sits near the pool and serves up draft beer and classic summer food. The main menu staple is the quintessential American hot dog. This one-pound, footlong all-beef hot dog is flat top grilled NY-style and served on a Philly-style pretzel roll with sautéed onions, taking the best styles from nearby destinations and putting them all together to create a unique culinary poolside creation.
Comments on Facebook